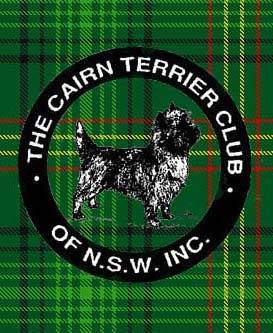 The Club exists to encourage the breeding and exhibition of Cairns, to act
as a reference and support source for pet owners and to generally safeguard the
breed's best interests in NSW.

OFFICE BEARERS

Patron
Margaret Hill
President
Bob Robertson
Vice President
Pamela Harding
Secretary/Correspondence

Robert Bartram 59 Tempe Cres, Googong, Queanbeyan
NSW 2620
email: robert.bartram@bigpond.com

Committee
Garth Harding, Ian Westrup, Narelle Corfe, Kathryn Smith
Treasurer
Kathryn Smith 13 Mulga St Captains Flat 2623 NSW

Publicity Officer/Newsletter/
Website

Di Cross
email: missigai@yless4u.com.au
Membership Secretary
Maureen Thomas 26 Kneebone St Bonython ACT 2905
Puppy Sales
Margaret Hill

02-62958710
NOTES

1. Check the Cairn Symposium 2013 page for updated details - UPDATED 15 Sep 13
2. Please note that all membership renewals and new memberships are to go to the Membership Secretary.
3. Health Watch Report has now been updated. Please see the health page.
4. Black and white fun day details are on the website.
5. The critique for the Aug 13 show is now up on the website.

COAT CARE DAYS
SYDNEY
The next Coat Care Day will be held in the Cattle Ring at Castle Hill from 10.00 am to 3.00 pm on Sunday 10 November 2013
For newcomers, and we hope there will be some, enter the Showgrounds from Carrington Road, across two speed humps, turn left down the hill, and there are three terraced rings a few yards down the hill on the left. This is where we will be.
There are lovely shade trees, kitchen facilities on the spot and toilets nearby. In the case of rain shelter is also close at hand.
Bring lunch, chairs, a table if you have one, dogs of course, and children. Please bring your grooming tools if you have any. Tea and coffee will be on tap
Could you please let Rosemary Boyd on 02.97987762 know if you are going to attend.
QUEANBEYAN
The next Coat Care Day for the southern region will be held in Queanbeyan Park, Lowe Street from 11.00 am to 3.00 pm on Sunday 17 November 2013.
We would be delighted to see a bigger roll up than we have had on previous occasions so if you know of anyone in the local area...member or not...who may be interested please feel free to encourage them to attend.
Bring dog, any grooming gear you may have and of course children. Tea, coffee and biscuits will be available but please bring a plate to share for lunch.
It would help greatly if you could please let Kathryn Smith on 02.62366717 know if you are planning to attend.
Contact Details
Secretary:
Mr Robert Bartram
59 Tempe Cres
Googong, Queanbeyan 2620 NSW
78662 Visitors